2 minggu lalu rencananya kita mau ditraktir temennya Chandra, jadi gua pikir kyknya musti bawain sesuatu buat dia nih (akhirnya sih jadinya BS heheh). Sebenarnya ga sengaja mau bikinin sponge or chiffon cake spt ini. Lah org gua paling takut dah bikin yg kue soft2 spt ini, uda takut gatot duluan (^~^), tp ga tau knp pas liat resep ini tangan uda gatel aja pengen coba. Pake telornya dikit, butter n gula jg ga banyak.
Kali ini super nekat deh....ehh ternyata pas jadi bikin gua berbunga2. Cakenya soft bener, kyk makan kapas :). Cuma krn gua ga punya loyang chiffon, gua pake springform. makanya kuenya ga tinggi. Chandra gua suruh cobain, dia blg enak.
Terus 2 ari yg lalu, Chandra blg mau ke rumah Oom Paulus, ada urusan mau anterin ke imigrasi. Kepikiran lagi pengen bikin chiffon cake. Tp kali ini gua pake bundt pan yg bawahnya ga bisa dilepas. Agak susah waktu mau ngeluarin dari loyangnya..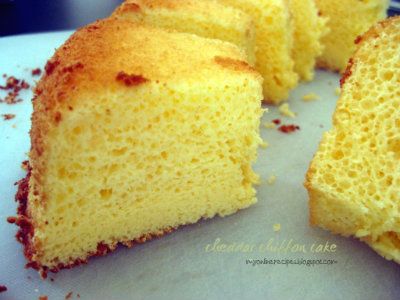 Ingredients (makes 8-inch tube pan):

A:
60g milk
40g cheddar cheese (2 slices)
25g butter

B:
4 egg yolks

C:
60g all-purpose flour, sift together with corn flour
10g corn flour

D:
4 egg whites
90g sugar
1/8 tsp cream of tartar
Methods:
Preheat oven 170˚C.
Cook (A) over double-boiler until well blended and thickens. Remove from double-boiler and let it cool down.
Add (B) into cooled down cheese mixture and mix until well combined.
Fold in (C) and mix until smooth.
Beat egg whites until frothy, add cream of tartar, and beat till soft peaks. Add sugar in batches and beat till stiff peaks.
Fold 1/3 of the egg whites into cheese mixture, gently mix with a whisk or rubber spatula until just blended.
Pour cheese mixture (step 6) into the rest of egg whites, fold it gently with rubber spatula until blended.
Transfer batter into a 8-inch chiffon cake pan, bang the pan on a hard surface to release air bubbles and bake for 35 - 40 minutes.
Invert cake immediately after bake, cool completely on rack. Remove cake from the cake pan.
Source: http://mykitch3n.blogspot.com.au/2011/07/cheddar-chiffon-cake-dont-you-like.html